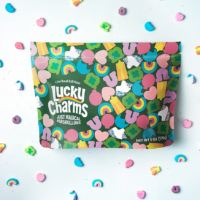 Breakfast is the most important meal of the day.  Cereal is often a good and simple choice to get something in your stomach to get you going.  Lucky Charms has been one of the most popular cereals for a long time.  Now they are allowing you to enjoy them anytime!
They're magically delicious — and coming to a store near you!
Lucky Charms is releasing a brand new product for everyone who thinks that the mini clovers, hearts, moons and stars are the best part of the beloved cereal.
For the first time ever, marshmallow lovers will be able to get their hands on a pouch of Just Magical Marshmallows — which will be available for purchase in select stores around the country, but only for a limited time.
To celebrate the tasty release, Lucky Charms has something else pretty magical up its sleeve.
On Sept. 1, Lucky Charms will be surprising fans in New York City with a "spectacular in the sky," according to a press release.
The 6 oz. pouch will feature all eight of your favorite designs and will cost around $3.99, although the actual cost may vary from store to store.  Here's hoping they will be available in our area!
~ Tim Thomas