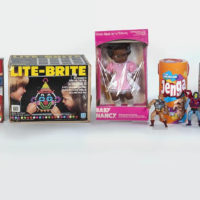 The nominees for the Toy Hall of Fame 2020 have been announced.  Depending on your age, you may or may not have played with any of them as a kid.  And truthfully, a few of these I still enjoy playing as an adult!
Baby Nancy
Bingo
Breyer Horses
Jenga
Lite-Brite
Masters of the Universe Toys
My Little Pony
Risk
Sidewalk Chalk
Sorry!
Tamagotchi
Yahtzee
Click HERE for a list of finalists in more detail and a bit more info about them.  For the record, my three votes would be Yahtzee, Lite-Brite and Sorry!   I love board games.  Which 3 would get your vote?
~ Tim Thomas