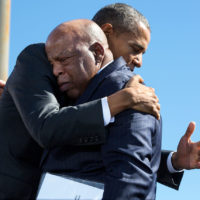 Congressman John Lewis was a civil rights activist, voting rights champion and an inspiration for many across racial and generational lines. He died on July 17, 2020.
A group of Marion citizens will gather to honor and celebrate Lewis's life with a commemorative tree planting ceremony. The event will take place on Sept. 19, at 3 p.m., at the Clarence Faulkner Community Center, 1221 W 12th St. in Marion.
According to a press release, a Maple tree will be planted in his honor, its canopy symbolizing the wide reach and influence of John Lewis.
The group will also be hosting an essay contest for Grant County students of all levels focused on some aspect of the life of John Lewis. Contest information rules and guidelines will be distributed to the offices of all local school superintendents.
The release states that the ceremony will also include an opportunity for community members to register to vote.