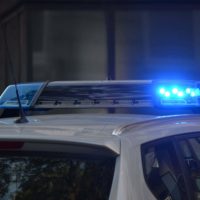 Three Marion residents had to be flown to a hospital in Fort Wayne following a motorcycle versus car accident Sunday afternoon.
According to a press release from the Indiana State Police (ISP), the accident occurred at approximately 12:30 p.m. Sunday, in the area of Baldwin and Spencer avenues.
The press release states that the preliminary crash investigation revealed that Jimmicia Drake 28, Marion, IN was driving a 1993 Chevrolet Caprice southbound on SR 9 near Spencer Avenue. The Chevrolet attempted to turn eastbound, into an alley, and pulled into the path of a motorcycle, driven by 36-year-old Adam Ethedridge, of Marion.
Etheridge was driving a 2009 Harley Davidson FXC motorcycle northbound on State Road 9 near Spencer Ave. According to the release, the motorcycle hit the car in the passenger side, ejecting Ethedridge, and his passenger, Ashley Ethedridge, 34, of Marion.
Both Adam Ethedridge and Ashley Ethedridge were flown from to Lutheran Hospital in Fortt Wayne. Adam suffered life threatening injuries and Ashley suffered serious but non-life-threatening injuries.
Andre Bass, 43, Marion, a passenger in the Chevrolet, was also flown from the crash scene to Lutheran Hospital with non-life threatening injuries, according to the press release. Drake was transported to a local hospital. She was treated and released.
The release states that investigators do not believe drugs or alcohol to be contributing factors in the crash, but investigations are ongoing.