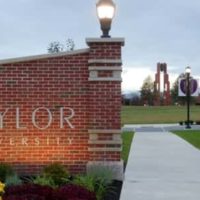 Taylor University's Board of Trustees has announced the launch of the search for the University's next president.
The Board has appointed a search committee, co-chaired by Chris Goeglein ( a 1984 Taylor alumnus) and Manuel Rosado (a 1996 Taylor alumnus), who presently serve as the Board's Chair and Vice-Chair. "With joy and anticipation we are delighted to announce the launch of our Presidential Search. We ask our Taylor family and friends to pray for this search, and specifically that the Lord will identify and anoint the next President of Taylor University", said Goeglein. "This is a critical time for Taylor so we encourage an active role in this search, first by joining us in faithful prayer, and secondly by sharing candidate ideas with us", added Rosado.
Taylor University, founded in 1846, is an evangelical, independent, nondenominational Christian liberal arts university. All programs are shaped by a biblical, Christian worldview and by the integration of faith, learning and living within a community of intentional Christian discipleship and relationships.
Rosado and Goeglein said Taylor is the country's oldest nondenominational school of its kind and is well known for its academic excellence and rigor. Taylor offers 120 undergraduate and graduate degree programs, as well as many opportunities for study and service abroad. Additionally, Taylor's enrollment is diverse, with students from over 40 states and more than 30 countries. Taylor's facilities total more than a million square feet of space, and its nearly one-thousand-acre campus is an ideal setting for study, community and spiritual growth.
Taylor's mission is to develop servant leaders marked with a passion to minister Christ's redemptive love and truth to a world in need. For more than 170 years, young men and women have been attending Taylor University, seeking an education and wisdom that not only informs their minds, but also forms their souls. The University is located in Upland, Indiana – about 80 miles northeast of Indianapolis.
Following are the Board's parameters for the search and ideal candidate:
QUALIFICATIONS
The ideal candidate must be a person whose deep faith and servant leadership enables him or her to lead with wisdom and courage. The challenge is to navigate the many complexities facing the landscape of higher education, and the opportunity is the robust potential for growth and development. It is critical that the next president be gifted in the areas of innovation and adaptation – a visionary who can build a team of people who will think creatively and strategically about the future. Above all, Taylor seeks a leader whose involvement in Christian higher education is more a calling than a career.
Other factors crucial to the president's success include a proven track record in leading a complex organization and someone who is committed to transparency, achievement, accountability and collegiality. He or she must be dedicated to academic excellence and must continue to promote increased diversity among the student body, faculty and leadership.
The Taylor Board will consider every qualified candidate, and we encourage people to reach out if they feel God stirring in their heart that this could be the role for them.
Applications will be reviewed until a selection is made, but candidates are encouraged to submit information by November 15, 2020. Nominations or candidate materials are welcome at resumes@jobfitmatters.com. Confidential inquiries may be made to Laura Coverstone or Tommy Thomas at 615-261-4623.