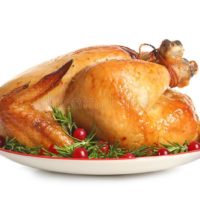 With Thanksgiving approaching, many of us will be dining on turkey and having a decent feast.  And it is OK to do so.  Why? Because so many of the foods we consume for the holidays are actually superfoods!  Seriously.
There's no reason to skip those traditional holiday meals. In fact, many of your favorite holiday foods are stuffed with nutrition.
• Superfood: Turkey — Health benefits: With this holiday centerpiece, you'll reap plenty of benefits: Turkey is low in cholesterol, saturated fat, and overall fat, and it provides nearly 50 percent of the RDA for folic acid — which helps protect against birth defects, various forms of cancer, and heart disease.
• Superfood: Cranberries — Health benefits: These bold red berries are beautiful and a boon to your body: An excellent source of free-radical scavenging antioxidants like vitamins C and E, the berries may help reduce the risk of chronic diseases like cancer, stroke, and heart disease. Solid research also backs up their role in preventing urinary tract infections.
• Superfood: Pumpkin — Health benefits: Call it a great gourd! This fiber-rich winter squash is chock-full of beta-carotene (which is good for the eyes and may help prevent some types of cancer and atherosclerosis) and serves up vitamin C and potassium (the latter can help counteract the effects of sodium if you have high blood pressure).
• Superfood: Whole Wheat Dinner Rolls — Health benefits: In general, 100 percent whole wheat breads have more fiber than white bread or other breads made with wheat flour. Fiber can decrease the risk of heart disease and some types of cancer and it helps you maintain regular bowel movements.
• Superfood: Peas — Health benefits: These green veggies are an ample source of fiber (both insoluble and soluble). Sass recommends fresh or frozen over the canned variety because soaking in the liquid breaks down some of the fiber, and nutrients in the peas leak into the water, which is then thrown away. Plus, canned peas are loaded with sodium.
• Superfood: Sweet Potato — Health benefits: Sweet potatoes are an excellent source of beta-carotene, antioxidants, and fiber.
So feel free to add any of these items to your holiday feast without guilt.