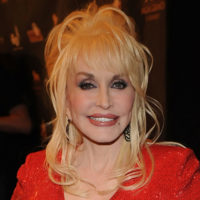 Dolly Parton is a National Treasure.  We do not deserve her.  We really don't.
She has given us so much and has remained so humble after all of these years.  Her music, her acting performances, her philanthropy.  Books for kids.   And now this:
DOLLY PARTON DONATED $1 MILLION TO FUND COVID VACCINE _ Dolly Parton is trying to save your life. The biotech company Moderna just developed a vaccine that 94.5 percent effective against preventing COVID-19. The results of their initial tests were published in the New England Journal of Medicine, but you know what else was published in the New England Journal of Medicine? The donors. And who donated $1 million to support the research the led to the Moderna vaccine? The Dolly Parton COVID-19 Research Fund.
… In various social media posts earlier this year, Dolly explained her decision to help fund COVID research at Vanderbilt: "My longtime friend Dr. Naji Abumrad, who's been involved in research at Vanderbilt for many years, informed me that they were making some exciting advancements towards research of the coronavirus for a cure. I am making a donation of $1 million to Vanderbilt towards that research and to encourage people that can afford it to make donations."
… And let's not forget that Dolly launched a web series early in the pandemic called Goodnight with Dolly where she reads bedtime stories from her Imagination Library to children. The Imagination Library is a literacy program that Dolly launched in 1995 to send free books to children every month until their 5th birthday.
My uncle tells a true story of meeting Dolly on a plane flight where she was in 1st class.  Word got out that Dolly was on the plane and obviously everyone wanted an autograph.  My uncle was seated behind her on this Delta flight as he worked for them.  He said every single person who came up to see her not only got an autograph, but a short interaction with the country music legend.  She could not have been nicer.
We do not deserve Dolly Parton.  But thank goodness we have her.  Thank you Dolly for everything you have done to make this world just a little bit better.