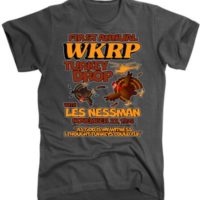 Tomorrow is Thanksgiving!  A wonderful holiday where many of us give thanks and spend it with family, friends, loved ones etc.  If you work in radio…one thing comes to mind.  WKRP!
Anyone who works in radio should be familiar with the TV show WKRP in Cincinnati.  This show is must see viewing for anyone in the radio business.  It ran for 4 seasons and then another 3 when it was rebooted.  But the one episode everyone remembers is the annual Turkey Drop promotion that Mr Carlson put together.
To say this was comedy gold would be an understatement.  With one of the greatest lines in sitcom history.  Watch the clip below:
Every Thanksgiving, not only do I give thanks for what I have, I thank God for this episode.  It never gets old.  Happy Thanksgiving to you all!