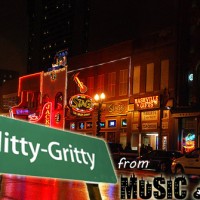 Lil Nas X's 2019 smash, Old Town Road — specifically the remix version featuring Billy Ray Cyrus — has become the most Platinum-certified song in the history of the Recording Industry Association of America. The country-rap crossover hit marked the milestone over the weekend, reaching 14-times Platinum status in the U.S. for moving 14 million equivalent song units. It's the most ever for a single in all of RIAA history.
Rascal Flatts might be done as a group but the guys are keeping busy. After announcing a year ago that they were disbanding after 20 years, Rascal Flatts' Gary LeVox, Jay DeMarcus and Joe Don Rooney are moving on to new ventures that range from record labels to goat yoga.
… Gary LeVox is in the process of recording his own album. When he's not making music, Gary is tending to his farm and has picked up a surprising new activity: goat yoga. He says, "It's weird but there's nothing to do and I own that farm, so I'm raising goats and we've got yoga goin' on."
.. Jay DeMarcus is focusing on developing talent at his Christian label, Red Street Records.
… Joe Don Rooney has been honing in on songwriting, a passion he's focused a lot of time and energy on during the COVID-19 pandemic.
Jamey Johnson and Randy Houser will share a stage to kick off 2021. The two longtime friends announced the Country Cadillac Tour on Tuesday. It's an acoustic co-headlining tour that promises much more than just songs. A press release describes something similar to a guitar pull, where each singer will share songs before and after they swap stories and toss jokes at one another. Part of the tour's name comes from Randy's nickname: Cadillac.
Lauren Alaina has added a new member to her family in the form of an adorable Goldendoodle puppy she named Opry.
Florida Georgia Line's Tyler Hubbard is letting fans know once and for all that he and Brian Kelley are not going their separate ways: "We've always done every single thing together. So it really does feel good to say, 'BK, go make your solo project and go have fun with it, and I'll go write songs and see what collaborations happen and we'll just just have our own voice and make our own mark for a little while.'"
… FGL is still a priority as the two have a new album coming out in February. On top of that, Tyler and Brian are planning to resume their Chillaxification 2020 Tour with Kenny Chesney, which was postponed due to the COVID-19 pandemic. The tour is, for now, scheduled to resume in Tampa, Florida on May 1 of this year.