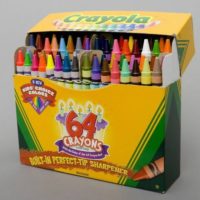 Talk about something that brings me back to my youth.  It is National Crayola Crayon Day, and how many of us had a box of them as an child?  And perhaps secretly, you still have as an adult.
When I was a child, it was always exciting to get a new box of crayons.  The bigger the box, the better.  And you had to have the sharpener in the back!  If you were creative and liked to draw or doodle, you could have up to 128 different colors to choose from.  Remember to color between the lines.
During the pandemic, adult coloring books became more popular, as families were looking for more things to do with their kids.  And there are a lot of health benefits to coloring.  Seriously.  Especially for adults.  Click HERE for details on that.
So if you are shopping for supplies and/or groceries for the home, maybe pick up a box of Crayola's and grab a coloring book.  It may surprise you how much fun coloring with crayons can be.