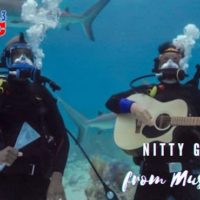 Miranda Lambert says her next album is just around the corner. She shared: "Stay tuned, it's not far."
Brad Paisley is a part of Discovery network's Shark Week tonight (Tuesday. The show is called Brad Paisley's Shark Country and Brad and comedian JB Smoove travel to the Bahamas to learn about sharks. With help from Dr. Austin Gallagher, they put Brad's musical talents to the test in shark-infested waters to see how sound can attract or repel sharks.
In place of its regular broadcast themed around CMA Fest, which got cancelled for a second summer in a row because of the COVID-19 pandemic, ABC will air a three-hour primetime television special filmed called CMA Summer Jam. Footage for the special will be filmed across a two-night concert event, held July 27-28 at Ascend Amphitheater. Additional performances will be filmed across downtown Nashville.
… Summer Jam's lineup includes Blake Shelton, Carrie Underwood, Luke Bryan, Brothers Osborne, Dierks Bentley, Gabby Barrett, Jimmie Allen, Luke Combs, Miranda Lambert, and others.
… There's no word yet on the Summer Jam special's air date.
Jake Owen said goodbye to his German Shepherd, Slash, over the weekend. On Saturday night Jake paid tribute to his four-legged best friend on social media through an Instagram post. The singer stated: "I lost one of my best friends last night unexpectedly. The drs said his stomach had 'flipped' and even with emergency surgery, it wasn't enough to save him." According to medical experts, a stomach flip is known as a bloat, or as a Gastric Dilation Volvulus known as GDV. Unfortunately, this is a life-threatening condition that commonly occurs in large breed dogs with a deep chest such as German Shepherds. This occurs after a dog's stomach has expanded due to food, fluid, or gas and which causes the organ to twist and rotate.
… Jake added: "Slash was my youngest German Shepherd and the sweetest most loving dog I've ever had. He was more like a human than a dog. While my other pups would run free across the farm, Slash just wanted to be by my side."
Sara Evans' daughter Olivia has decided to follow in her mother's footsteps. After years of growing up watching her country singer mom release hits in Nashville, she's released her own music for the first time. However, Olivia decided to not follow directly in her famous mother's country music footsteps for her debut project. Instead, she wanted to make music with a bit more of an R&B/pop edge. Her debut song is titled Of Course I Do. • VIDEO
Thomas Rhett, Carrie Underwood, and Luke Combs will headline the 2022 Stagecoach Festival. After two years of cancellations, the next Stagecoach will take place April 29 – May 1 in Indio, California. The lineup will also include Maren Morris, Midland, Brothers Osborne, Lee Brice, and Tanya Tucker.
Mickey Guyton will soon release her debut album. Remember Her Name is due out on September 24. A 16-track album, Remember Her Name is nearly completely co-written by Guyton: She has a writing credit on 15 of its songs.