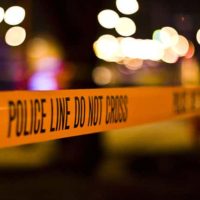 A Marion couple has died after an incident in Gas City yesterday.
According to Indiana State Police Sgt. Tony Slocum, officers were dispatched to the Gas City Town Hall at approximately 4:27 p.m., Monday, July 19. There they found 48-year-old Eric Huffman and his wife, 43-year-old Telina Huffman, both of whom were dead.
According to Slocum, preliminary investigations indicate that the Huffmans were passengers in a vehicle being driven by a relative of Eric. Officers allege that Eric and Telina got into an argument, claiming Eric pulled out a handgun and shot Telina.
Slocum states that the family member tried wrestling Eric for control of the gun. During the struggle, the family member lost control of the vehicle and crashed into a semi-trailer parked at a business on 520 E. First St. The family member then lost control of the gun, which police claim Eric used to shoot himself.
Officers state that the family member was unable to escape the vehicle, so they drove to the Gas City Town Hall and began honking until employees came outside to assist. The family member was extricated from the vehicle by responders from the Gas City Fire Department.