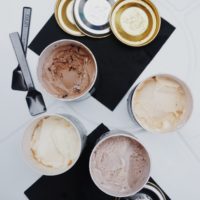 You can learn a lot from TikTok including how to make the perfect ice cream sandwich. Of course, I find these videos late at night right before I'm about to go to bed and am in no shape to go out and get the stuff to make them. Maybe that's a good thing. That way I'm not eating all these extra calories that I don't need.
This woman gets party cups and puts ice cream in them. She then freezes those cups for a few hours. After the ice cream is frozen, she'll cut them into slivers. This gives you the perfect round shape you need. You can then place those round discs in between two cookies. There you have it… a homemade ice cream sandwich.
The next party I go to to have, I'm going to have to try this! It's such a great idea! Once again TikTok for the win!
Tags: