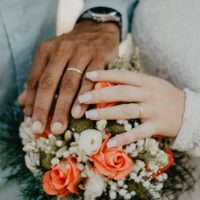 It's that time of the year where there are weddings just about every weekend! A lot of weddings are super similar. The hard thing is making yours stand out.
I have no idea how I stumbled across the wedding side of TikTok because I'm not even close to being at that stage in my life, but here I am. The TikTok algorithm thinks I need to be there apparently.
Last night I was on TikTok and came across a wedding planner that talked about ways to make your wedding something folks won't forget.
One thing she suggested was instead of having table numbers, name your tables. These names can be significant to your relationship or having meaning to you. Like, name one of them after the place you got engaged.
Another suggestion was to have interactive vendors there. You can include things like old phones that folks can leave you messages on, photo booths, and stuff of that sort. Food Tucks are another big one!
She says it's all small details and they don't need to cost you a fortune. They can be simple and folks will still love them!
Tags: